HARDSHIP, highlight, hero. They're three words that have meant a lot at Richmond this season, as players, coaches and staff have poured their hearts out to each other and built relationships that have driven a remarkable year.
Every week from early in the pre-season the Tigers have set aside time to gather as a group and listen to colleagues speak about something personal to them in what have been called HHH sessions. Hardship, highlight, hero.
The meetings came to an end only last week and have been praised internally for creating deeper connections among players, coaches and staff, which has translated on-field.
"It's a credit to all the players who have stood in front of the group and shared something special or something that is unique to them. It's taken the whole year, but it takes a lot of courage," defender Bachar Houli told AFL.com.au this week.
"It might be a hardship that you've experienced in your life, and when you share those things you're on your way to building a good relationship, and more importantly trust.
"You don't share something that is personal if you don't have the trust, and that is something that every player has done."
Players old and young have opened their hearts to teammates, Houli says, with eyes always fixed on whoever was speaking in the players' auditorium. Many were emotional.
"It's the ones who you hear have lost someone dear in their life, that really touches you," Houli said.
"There was emotion, because you're sharing something unique to yourself to your family, which we are here at the Richmond football club.
"It doesn't matter how old you are, even the older guys were struggling at first, because it's not easy to stand in front of the group.
"But all eyes and ears were open and I could see by looking around that their hearts were open as well. That's the connection we've built."
Damien Hardwick was first and he set the tone, followed by captain Trent Cotchin and the Tigers' senior leaders. Each speaker would nominate someone to follow.
The sessions created more conversations between players, coaches and staff, and deeper connections were made in the follow-up.
Bachar Houli and Damien Hardwick share a hug after the preliminary final. Picture: AFL Photos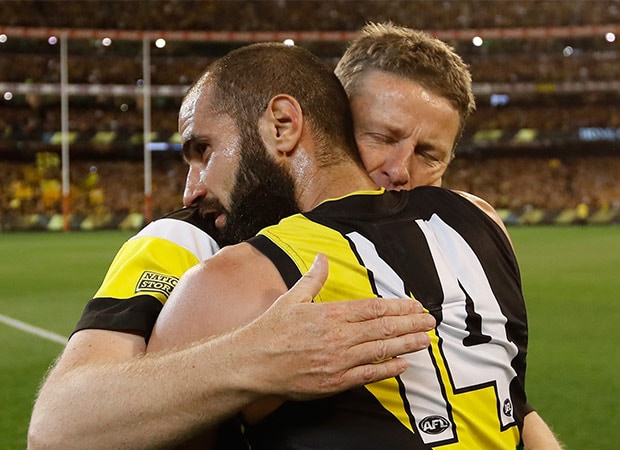 There were other initiatives. One day every player was given five dollars and told to go and have a coffee with someone they didn't normally mingle with. Again, the group grew closer.
When young forward Dan Butler turned 21 in June, a bus load of more than 30 Tigers made the trip to Ballarat to celebrate with his friends and family. It wouldn't have happened last season.
"That was pretty amazing," Butler said. "I threw the invite open to everyone and I was probably expecting maybe 10, so it was pretty awesome.
"All my mates and family couldn't believe how many blokes would come all the way for a party like that.
"In previous years it wouldn't have happened, but the group is so close this year and you can see that in how we play on the field.
"We celebrate everything and that translates from on-field to off-field."
That connection Richmond players have developed this season was not there last year and Hardwick knew it.
When he returned from a much-needed off-season break he spoke to his right-hand man Tim Livingstone about focusing more on relationships as one of the pillars of his coaching.
The changes at Richmond this season are many, from the injection of new players and coaches, and a re-worked game style. Even a re-design of the football department has been important.
But that decision from Hardwick at the start of pre-season appears to have been the most inspired change at Richmond as it prepares for its first Grand Final in 35 years.
"Through his inspiration, we've invested more time in understanding everyone's story and how they came to be playing for the Richmond footy club," Livingstone told AFL.com.au.
"It's the old saying, people don't care how much you know until they know how much you care."
Many of Richmond's players think of Damien Hardwick as a father figure. Picture: AFL Photos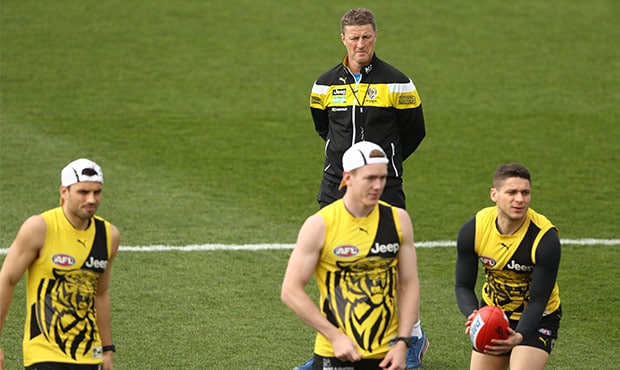 Many of Hardwick's players think of him as a father figure, with his blend of care and honesty meaning they always know where they stand with him.
He had always been a coach who had balanced the teaching and relationship aspects of his coaching well, but the relationship side fell away in 2016.
The 45-year-old became more focused on the 'do and data' of coaching and less open to the equally important 'thoughts and feelings' of his job.
This week Hardwick spoke to his peers in a raw and revealing way at the AFL Coaches Association's annual awards night, where he was named the AFL coach of the year.
He spoke from the heart and revealed that his wife, Danielle, had told him he was not the man she married during the lowest points of a horror 2016 season.
"I wasn't the happy-go-lucky bloke. I'd turned into something that was not what I wanted to be," he said.
"It reflected poorly on me and my players, and I turned it around and embraced the vulnerability of being who I am. I haven't got all the answers."
Hardwick said he felt he had become the Tigers' biggest problem last season and he had no option but to change. If he didn't, he believes he would have been sacked.
He looked inward and set about changing aspects of his coaching before looking at the team. He became less strict and rigid, and he delivered to his players the message "just play".
Rather than burying himself away after a loss, he learned the value in fronting up and having his morning coffee in public.
He asked himself what he could do better and ironed out those things that weren't allowing him to be the best coach he could be.
"He's always been a great leader in that sense. He sees himself as the leader and the buck stops with him," Livingstone said.
"Damien will put it on himself and the coaches first. If we're not teaching them correctly, we cannot expect them to execute. He's always taken responsibility."
Even Hardwick was nervous when he got up to speak to his players at the start of pre-season, opening himself up, admitted his faults and being vulnerable.
But he set the foundation for an ongoing conversation that has allowed players and coaches to get to know each other and look out for each other.
"In all the years I've played, I've never got around to that many players and actually talked about life," Houli said.
"When you get your coach standing up and talking about his life, and his family and what they mean to him, it does set the scene.
"There was always a missing link in the chain, but this year is completely different. There's no missing link."