We continue our special post-season series presenting the thoughts of Richmond's latest premiership heroes on that wonderful one day in September 2019. Today, key forward Jack Riewoldt talks about the Tigers' glorious triumph.
Spending time on the sidelines in 2019
"It's been a bit of a different year, I still feel we're only halfway through the season. But that freshness held me in good stead and I think there's a few other guys that had long-term injuries that came in at the end of the season...so we felt mentally in the right spot."
Growth of the Tiger cubs
"The biggest difference from season 2017 to season 2019 is we've been able to blood some younger guys that will keep reaping the rewards further down the track...So, I'm really excited about the fact that we've got guys that have played games early on in their career, it's a big milestone and a great development point. As much as you'd like to be out there playing, it's good to see young guys getting games as well."
Playing alongside Tom Lynch
"He's a great player. We got him to the club for one reason and that's to win premierships and for him to play well in big games. He was outstanding the week before in the preliminary final and really did his job again on Grand Final day."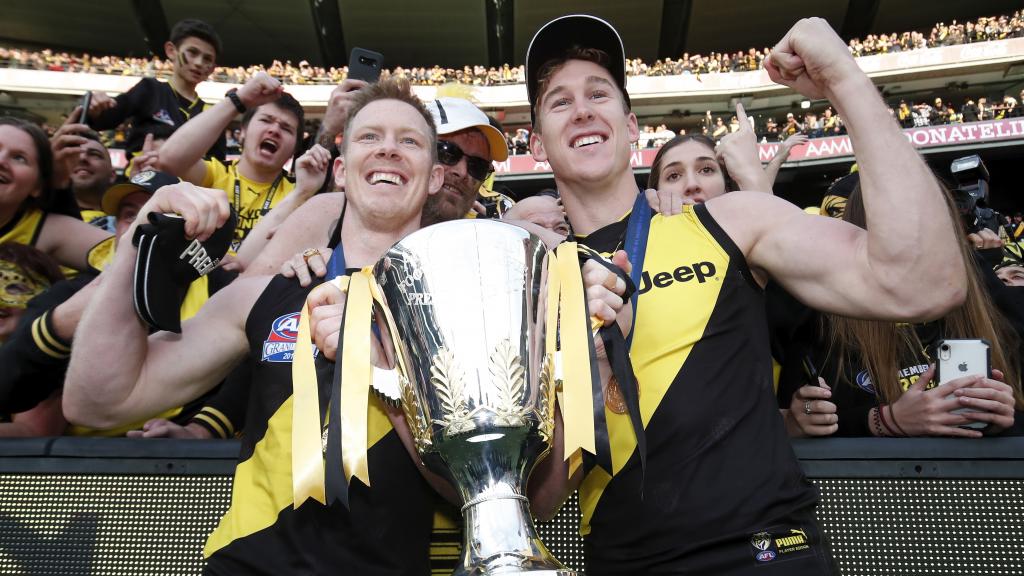 Grand Final lead-up
"It was pretty cruisy...We felt pretty comfortable with where we were at. Training went well and it was great to have all the fans around (Punt Road Oval). And being a part of the week previously, in 2017, really settled the group. We knew what it was going to entail and the Grand Final parade. The mantra of really enjoying the week rung true."
Celebrating the week with his daughter Poppy
"I wanted to make a conscious effort of getting her involved at every chance I could for the memories. I'm forever grateful for being able to do that."
At the final siren
"I was right next to Dustin, and pretty similar to 2017 when we knew the game had been won, we didn't go too far away from each other…In 2017 it was me, Dusty and Grigga all celebrating at a pretty similar part of the ground, and in 2019 it was me, Dustin and Lynchy. I think Stacky was nearly out there before Lynchy, he must have put in out of the greatest sprints of all time. It was a great moment for the Club to have all the VFL guys that had played in the premiership the week before there as well."
The big game itself
"Personally, I'm happy to have hit the scoreboard and played my role, and I'm glad I kicked straight...One thing I'm really proud of, and a reflection of 2017 as well, is that everyone played really well, which is a great feeling. For every person to play well is really important."
View this post on Instagram