In the lead-up to Saturday's Richmond v Adelaide clash at Etihad Stadium, Tony Greenberg reflects on the dramatic events that transpired the last time the two teams met at the venue . . .
One of the biggest upset wins in Richmond's league football history occurred when the Tigers played host to the Crows, at the stadium formerly known as Telstra Dome, 10 years ago.
It was Round 8, 2006 (Saturday, May 20), and Richmond, under the coaching guidance of Terry Wallace, was coming off a 118-point annihilation by the Sydney Swans the previous week at the Dome.
The Tigers had won three of their seven matches to that stage of the '06 season and were in 11th place on the ladder with a woeful percentage of just 68.
Adelaide, meanwhile, was on top of the ladder with six wins and only one loss. The Crows had stitched up North Melbourne by 56 points at the Dome in Round 7, and they returned for the Round 8 match against Richmond there chock full of confidence.
Adding to their self-assurance, was the fact that in four previous encounters with the Tigers at the roofed venue, they had never been beaten.
All this supposedly added up to a big, percentage-boosting win for the high-flying Crows.
But Terry Wallace and his Tiger team had other ideas . . .
Wallace, who thrived on innovation, came up with a cunning plan to beat the powerful Adelaide outfit.
Basically, the Tigers set out to deny Adelaide's players possession of the ball.
They played keepings-off, chipping the ball around to each other, particularly in their defensive area, with the likes of Joel Bowden, who was playing game No. 200 for Richmond, his younger brother Patrick, who had transferred from the Western Bulldogs to Tigerland that season, and Andy Kellaway, all racking up huge numbers of marks. J. Bowden took 20, P. Bowden 15 and A. Kellaway 15, as the Tigers continually frustrated their Crow opponents.
Richmond had been averaging 80 short kicks per game going into its clash with Adelaide. On this sunny Saturday afternoon, with the stadium's roof open, the Tigers increased that tally to a staggering 180! And, of the 181 marks they took for the afternoon, only 13 of them were contested.
They seized the initiative early in the contest and showed exemplary discipline throughout to steadfastly stick to the surprise game plan.
The Crows were completely confused by Richmond's clever ploy. It took until the last quarter before they finally started to find a way through and kick some goals. But it was all too late by then, and the Tigers were able to hang on to record a startling three-point win.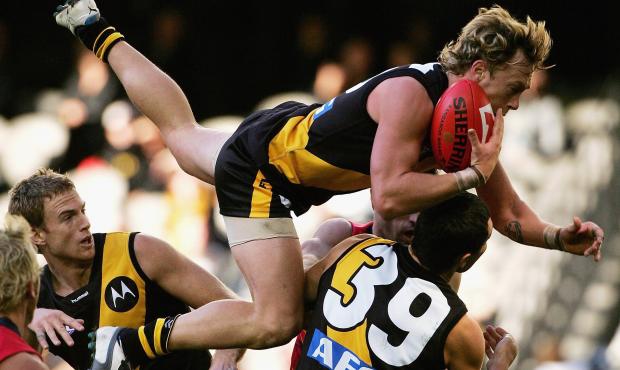 Kayne Pettifer pulled in another Mark of the Year contender against Adelaide in Round 8, 2006
This was AFL football's version of boxing's absorbing Muhammad Ali-George Foreman World Heavyweight Title fight in Africa in 1974.
Ali, the rank outsider, up against the unbeaten, fearsome, powerful-punching champion, adopted the unusual tactic of leaning against the boxing ring's ropes, with his arms tucked tightly into his body for protection, as a bewildered Foreman threw countless punches to little effect.
Eventually, in the stifling heat, Foreman had nothing more to give, and Ali, sensing the moment, moved in to land a spectacular knockout.
His 'rope-a-dope' strategy, as he called it, had been brilliantly executed, enabling him to score an amazing, against-all-odds victory.
Richmond's own extraordinary methods, in Round 8, 2006, had produced a similarly stunning result.
Here is how Chris Riches, writing for richmondfc.com.au at the time, described what unfolded that day . . .
"The raised hands and wide grins as the final siren sounded gave it all away.
All the planning, effort, patience and sheer nerve of Richmond's astounding three-point win over the high-flying Adelaide Crows were encapsulated in a simple show of triumph and joy.
Not only had the Tigers bounced back from a 20-goal loss to the Swans just a week earlier, they had done it against a team they hadn't beaten since 1999 and at a venue – Telstra Dome – that is far from their happiest hunting ground.
But most importantly, they had done it in the most satisfying way possible – by developing a brave and gutsy plan, practising it for days, and then sticking to it throughout the entire match.
The win wasn't set up through outstanding acts of individual brilliance, nor was it a thrashing of epic proportions. Instead, the win bore out how important the concept of 'team football' is – players and coaching staff included.
Few who have watched Richmond in recent years could possibly have predicted that it could successfully implement such a high-risk style of play, one which relied on patience, top-notch decision-making and almost flawless disposal . . .
Coach Terry Wallace laid the tactics out plainly in front of his players early in the week, explaining to them what was required.
No-one would have been under any illusions as to the work, the practice, the decision-making and the sheer gut-busting running that would be involved in making the plan succeed.
Richmond would have known that any slip-ups were likely to prove costly against a lethal Adelaide counter-attack and multi-pronged forward line. The Tigers also would have been aware that the Crows had already played this style of football themselves in their much-discussed win over Collingwood earlier in the season.
And, each Tiger player would have realised that what was being asked of them was the absolute opposite of what their coach had spent months trying to drill into them – to run, to carry the ball and to back themselves.
Yet the players said they were up for it, that they could do it – and they did. They believed in their coach, in each other and in their ability to carry the plan through – and they did.
From siren to siren, the Tigers stuck to their instructions. And, in doing so, they discovered they did have the skills and the decision-making ability to achieve success; that they were capable of putting in place a plan and then translating it from theory to practice under intense game-day pressure.
That's why the win was so satisfying, so inspiring and so rewarding.
But what has been overlooked in the analysis of the match was that this game plan, this exercise in frustrating the Crows, could have so easily been just an exercise in futility if Richmond was not able to win the ball.
The Tigers couldn't play keepings-off if they didn't have possession. So, that meant Richmond's on-ball brigade – often lighter and less experienced than their opponents – simply had to put their bodies on the line and their heads over the ball against one of the most formidable midfield rotations in the competition.
Led superbly by ruckman Troy Simmonds, with support from Trent Knobel, the Tiger ball-getters just kept beating their bigger, stronger and intimidating Crows opponents around the packs.
The sight of lightly-framed youngsters such as Nathan Foley, Richard Tambling, Andrew Krakouer and Chris Hyde throwing themselves into hard-ball contests was inspiring. Not only would they win more than their fair share of contested ball in the clinches, but they would chase and tackle with a ferocity belying their size.
Who can forget Foley's bone-jarring tackle on Crow Graeme Johncock late in the game, or Danny Meyer, in his first game for the season, chasing and, with a desperate lunge, tripping Adelaide star Andrew McLeod as he tried to scoot through the centre late in the game.
Through their efforts, these Tiger players, as well as young teammates like Mark Coughlan, Shane Tuck, Brett Deledio and Dean Polo, sent a clear message to the Crows: "If you want the ball, you'll have to win it from us – and even then, we'll chase you, hunt you, hit you, and get it back".
And, so, with every contest they won, every Crows player jolted, jarred or run down, the Tigers' belief grew. With that belief came passion and the desire to keep doing things for the team – to ignore burning lungs and tired legs in order to run that extra few metres and accept a teammate's pass, and then to concentrate through the fatigue to find a target and deliver the ball to them.
Time and again, Tiger players would inspire their teammates – the bravery of Andrew Kellaway, the long-bomb goal from Simmonds early in the game, and the spectacular running goal from Brett Deledio deep in the last term.
The work-rate of Kayne Pettifer and his willingness to keep presenting, young Adam Pattison's late-game goal and rattling tackle on Brett Burton, the inspiring shutdowns of Mark Ricciuto by Andrew Raines, of Brett Burton by Dean Polo, and of Simon Goodwin by Greg Tivendale, the pinpoint passing, patience and persistence of Joel and Patrick Bowden, as well as Chris Newman.
That's why the hands were raised and the smiles wide when the final siren sounded. That's why the "Yellow and Black" was sung with such gusto by those in the stands as the players left the field."
Round 8, 2006 match details
Richmond 3.0 6.3 7.7 10.9 (69)
Adelaide 2.4 3.6 4.8 9.12 (66)
Goals – Richmond: Simmonds 2, Coughlan, Deledio, Krakouer, Newman, Pattison, Pettifer, Tambling, Tuck.
Leading possession-getters – Richmond: J. Bowden 34 (20 marks), P. Bowden 28 (15 marks), Krakouer 24, Simmonds 24, Coughlan 23, A. Kellaway 23 (15 marks), Pettifer 22, Deledio 20, Raines 20.
Goals – Adelaide: Burton 2, Hentschel 2, Edwards, Johncock, Mattner, McLeod, Ricciuto.
Leading possession-getters – Adelaide: Edwards 30, McLeod 26, Goodwin 23, Doughty 22.
The Richmond team, Round 8, 2006
J. Bowden
P. Bowden
Coughlan
Deledio
Foley
Hartigan
Hyde
Jackson
Kellaway
Knobel
Krakouer
Meyer
Newman
Pattison
Pettifer
Polo
Raines
Richardson
Simmonds
Tambling
Tivendale
Tuck