He's our Deledio,
He's our Deledio,
He's our Deledio,
Who stole my stereo?
Twenty minutes into the first quarter and Brett Deledio finds space outside 50, kicks long, and the crowd at last find voice.  After early omens of misfortune, it's the vice-captain who shows clear intent.  He shoulders responsibility, kicking the season's first goal. The Tigers are on the board. A chant is raised in emotional release.
"The young supporters, they've not known the good days," says Pedro, 46, from Narre Warren, a self-appointed captain of the Tiger Army, who stands nearby, wearing a black felt hat and black leather jacket. "One day we'll be a power again."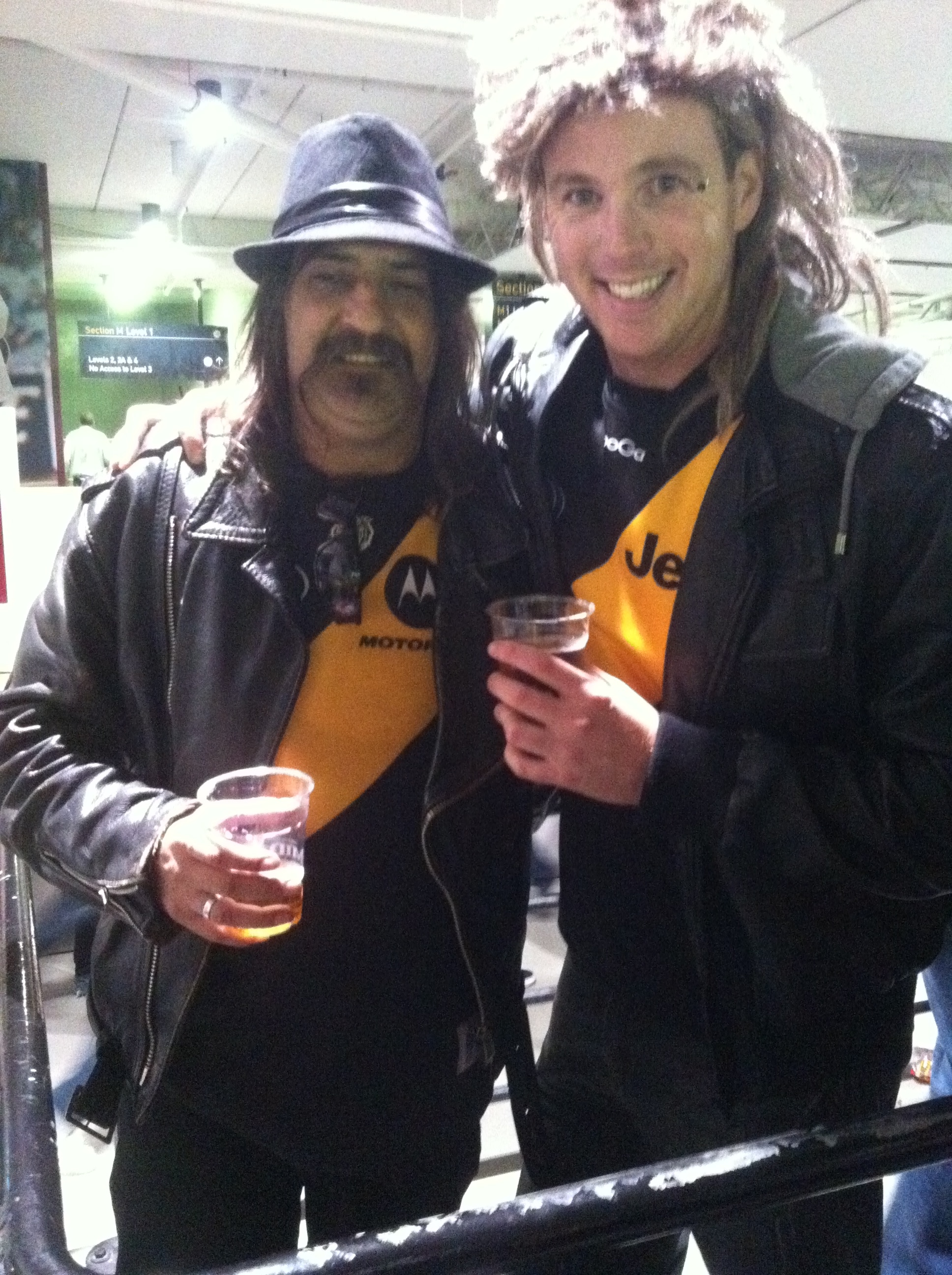 Tyrone Vickery soon after leads hard into a nicely weighted Dustin Martin chip, and spirits lift. Carlton had kicked the game's first three goals, Jack had cannoned our season's first scoring shot into the near goal post (and the team's first 'goal' was touched off his boot), but now Vickery marks inside 50. He hits it sweetly. Two in two minutes! It's game on. The roar is back.
Vick-er-y, Vick-er-y, Vick-er-y, Vick-er-y.
This chant early in the match I misconstrue as "victory". I'm watching Round 1 with true believers – on a raised concrete slab on the ground level of the Great Southern Stand, near Gate 4, behind the Punt Road end goals, standing with a one-eyed and one-voiced crowd that's become a little lore of the MCG outer. It's called the Grog Squad.
Early in the second quarter, Deledio's run-and-carry through the midfield ends with another Vickery mark and goal. Troy Chaplin harangues a Carlton kicker with defensive pressure. Alex Rance runs back with the flight of the ball. Bachar Houli absorbs a high hit and, from the resultant 50-metre penalty, kicks long and true.
Wagga, Wagga, Wagga,
Whiskers on ya Tiger, Tiger
Razza, Razza, Ra, Ra, Ra
Who? Who? Who are we?
We are the boys from the MCG
R.I.C.H.M.O.N.D
"We're passionate like no other club," says Woody, 29, from Rowville, who this night wears a mullet wig that makes him look more Davy Crocker than Ivan Maric. "I've been with the Grog Squad for the last six years. My parents are Richmond supporters. They sit in the member's reserves, but I stand here."
The quarter unfolds with Jake Batchelor taking the first of several telling overhead marks, backing into the unknown. Vickery busts open a pack up forward. The game is ferocious, the football hot. The ball spills to Reece Conca and he snaps truly.
Then there's a moment of reckoning. At the 18-minute mark, the Club's new captain mauls Carrazzo in the forward pocket. It's the law of the jungle, the night of the hunter. Trent Cotchin tackles him like a cat bringing down prey. He plucks the ball from his fallen victim, trots back a few paces, and spears a pass to an unmarked Vickery at the top of the square.
Howwww gooooood's Cotchinnnn! How good's Cotchin! How good's Cotchin!
Beers in plastic cups are passed through the metal railing, smiles and goodwill are spread. Luke McGuane kicks his first goal, Jake King kicks another, and it's raw euphoria. The Tigers are on a roll. High fives are offered. All in the Grog Squad acknowledge each other, sharing in the team's performance. The crowd becomes one.
"Man, just give me a hug, just give me a hug," says Woody. Pedro pulls up his top to reveal a tattoo on his belly that reads: "Richmond FC". "There's only one team in the competition that's got a Grog Squad," says Micky Stix, 23, from Sunshine. "We're here week-in, week-out, win or lose. No other team has supporters like us."
The second quarter's unbridled joy is then punctuated with an exclamation mark. Dustin Martin, at the 30-minute mark, gathers a loose ball near the boundary on the members' wing and from 45 metres out heaves it to goal. It never looked like missing. Here was an act of dazzling brilliance before 80,971 spectators, and an untold TV audience, that was both confirmation and statement. Martin let his deeds do the talking. Here I am. This is what I do. Are you with me?
The Grog Squad go delirious. Crammed into a raised concrete platform hemmed by a rail fence, bodies warmed by intimacy and the emotions of barracking, their numbers now raise a single voice louder than anything heard before. The response is in song, a stanza sung three times, to the tune of Frankie Valli's I Love you Baby.   
Ohhhhh Dustin Martin,
You are the love of my life,
Oh Dustin Martin,
I'd let you shag my wife,
Oh Dustin Martin,
I want neck tattoos toooo.
**
Thursday night at the MCG with the Grog Squad is full of surprises. "Football is it," says Jess Pannam, 24, from Mount Macedon, who I find at her regular spot at the front by the fence. "I've been standing with all the people around me for the last 10 years. They're kind of my football family."
It's a unanimity of passion that brings this crowd together for each home-and-away game at the MCG – a rowdier version of the cheer squad – standing at the back and rejoicing in all things Yellow and Black. For most, it's a place to belong, among friends, joining in chants and songs, gaining strength in numbers, with the truism that many voices are stronger than one.
And, it's a heterogeneous group. During the night, I meet 79-year-old 'Mad Max' Ramsdale, wearing a pinstripe suit, with a vintage Richmond scarf and tie, born in Burnie and a Tigers barracker since the 1950s. I meet also Stephanie Currie, 23, from Perth, timing a two-week holiday for the game. "It's better watching here than back home," she says.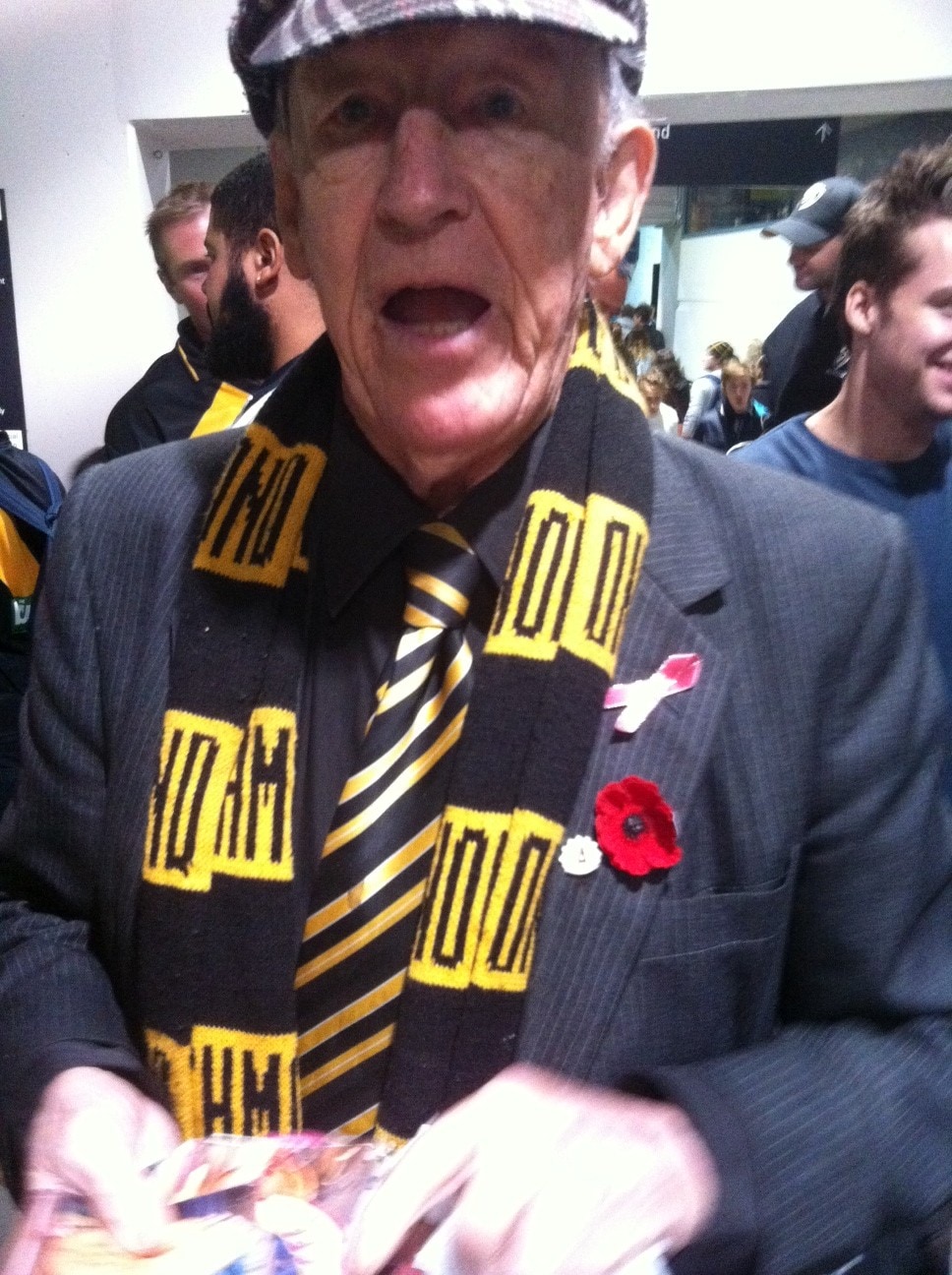 And, deep in the crowd, I meet three generations of a Tiger family. There's Julie Doherty, 58, from Officer, her daughter, Nicole Tinkham, 29, from Berwick, and thee-month-old Darcie (wearing ear muffs) at her first game. "She was great for the first half, she just slept through it" says Nicole. "But she woke up in the third quarter and was restless at the end."
**
Last week I had a dream. On Thursday night, it came partly true. We beat Carlton, for a first time this season. My team played with unity and purpose. They moved the ball fluently. The back six were resolute. Scoring options were varied. There was a pleasing blend of flair and blue-collar grunt, a balance between talls and smalls, runners and stoppers, old hands and the young guns.
Troy Chaplin, in his first game in Yellow and Black, looked a traditional Tiger. He hit packs. He punched from behind. His disposal was good.
Dan Jackson was a workhorse. He did the heavy lifting. He absorbed body contact. He brushed off a Mark Murphy tackle in the third quarter to nail a steadying goal.
'Lids' was the everywhere man. He beat Yarran in a pressure-cooker one-on-one, as the last defender, early in the first.  He composed the team with the opening goal. He smothered deep in defence in the second quarter. And, at the six-minute mark of the third term, he provided a match highlight – receiving in space on the defensive side of the wing, three bounces, a beeline to goal, and kicking straight from 55 out.
Jake Batchelor was all courage and sure hands in defence. The Ned Kelly look suits him. Jake King imposed himself on the contest, with a blend of delicacy (a neat chip off the left to Vickery) and enforcement. He won't die wondering. His loyalty to the team is replicated by the crowd's loyalty to him.
Tyrone Vickery was all affirmative action. Each lead led to rising self-belief, his athleticism and body contact buoying his confidence and lifting all around. He proved a talisman. He rose to the occasion.
Alex Rance was assured in defence (notwithstanding one slip). Martin willed himself to the ball, bullocking it forward. Shane Tuck shouldered a burden. Cotch led from the front, and by example, with a captain's game of the first order.
But from this voice in the outer, nine deep in the standing room pen that is the Grog Squad, Luke McGuane was the night's unsung hero. The stats sheets never tell a full story . . . He didn't accumulate big possessions, he didn't take many marks, but his efforts were tireless. Watch his game and you see a man who's all knees and elbows, playing within his limitations and to a team role of thankless tasks – standing under high balls, receiving half-chances, splitting the contest.
Luke McGuane is a no-fuss, no-frills footballer. No Richmond player on Thursday night had more game time. Rarely demonstrative, rarely beaten, few of his possessions come easy. He's a scrapper, a stopper, a scrounger. But, most of all, he's no easy man to shake.
Long after the floodlights were turned off, the night's lingering memory was its final act: THE TACKLE on Joshua Bootsma. McGuane was an octopus grappling a prized catch. Bootsma wasn't going anywhere.
That he missed the goal did not matter. His was a little cameo in a night of high drama and soaring expectation that exemplified an age-old attribute of football. He set a benchmark for the season. He brought a character trait to the game that was shared across the team. He gave to his teammates what all expect in return. His game was total commitment.
For this, we are all thankful.
Tiger, tiger, burning bright.
or Twitter: @dugaldjellie