Throughout 2020, Richmond Media has celebrated the 40th anniversary of the Tigers' 1980 premiership by transporting Yellow and Black barrackers back in time to follow the Punt Road path to that fantastic flag feat. It's exactly 40 years ago today – Saturday, September 27 – that Richmond rewrote the record books with a gargantuan Grand Final victory over arch-rival Collingwood at the MCG before a crowd of 113,461. First-up, we take a look at 'Sunday Press' reporter Bob Crimeen's match review of the Tigers' tremendous triumph. That's followed by 'The Age' football writer Geoff Slattery's colour piece on Richmond's remarkable romp to glory.
From Bob Crimeen, Sunday Press . . .
"Glory, glory, glory. It's the year of the Tiger, and did the Tigers do it in style!
Their 81-point winning margin was a record for the VFL Grand Final.
It eclipsed the 73-point record established by Essendon against Carlton and Melbourne against Collingwood in 1949 and 1956.
The Tigers' score of 23.21 (159) was the second highest in history; only Carlton's 28.9, ironically against Richmond in the epic 1972 clash, is higher.
And their whispy-haired wizard Kevin Bartlett's seven goals equalled the Grand Final goal-kicking record shared by seven players.
It was the Tigers' 10th VFL flag and, incredibly, their fifth since Tommy Hafey ended a 24-year premiership drought by winning in 1967.
For Collingwood, it was another shattered aim.
Eight times since that glorious September afternoon of 1958 the Magpies have contested the Grand Final and seven times they have lost.
Their near-triumph came in 1977 when they drew the first Grand Final against North Melbourne, only to lose the replay.
Yesterday, however, was probably Collingwood's blackest day of all in its long, often glorious, history.
As the Tigers bathed in the glory of victory and savoured their triumph with copious quantities of icy champagne, the humiliated Magpies were feeling the pain of shame.
Another year gone and with it, what had seemed to be their best chance of victory for many years.
As Richmond's triumphant coach Tony Jewell said, almost everybody but the bookmakers thought the Tigers would be beaten.
"But the bookies aren't often wrong, are they?" Jewell joked.
Until yesterday, Collingwood hadn't put a foot wrong in its all-conquering run to the grand final.
It toppled North Melbourne in the Elimination Final, beat Carlton in the First Semi and last Saturday eclipsed Geelong in the Preliminary Final for the right to challenge Richmond for football's greatest prize.
At half-time, Collingwood trailed by 43 points, but still had a chance – if it came out, asserted quick authority and immediately reduced the leeway.
But it wasn't to be. Seven minutes into the third quarter the game, effectively, was over.
Goals from rover Robert Wiley and two from giant forward David Cloke, his bruised heel deadened by a pre-match injection, saw Richmond roar away to lead by 61 points.
It was an advantage never again seriously threatened by the bewildered Collingwood players.
Whenever the Magpies made a thrust, Richmond came back immediately to reply and seemed to do it with ever increasing authority.
Richmond last year embarked on a big-money mission to assemble a team able to play 1980s football better than all others – and there can be no doubt of its success.
No team in recent history has played better football than Richmond did yesterday and there appears no reason why next year's side won't play even better.
It has pace, it has courage, it has class, it has one of the most miserly defences imaginable and in Michael Roach, Cloke and Bartlett it has possibly the most dangerous goal kicking trio in football history.
If Collingwood thought it finally had the team to win that increasingly elusive premiership flag, it must think again.
Time and again during the season, deficiencies were revealed in the Magpie ranks, but never more obviously than yesterday.
Maybe Collingwood's fortunes will change next year, but at this moment it seems extremely unlikely."
From Geoff Slattery, The Age . . .
"There was no sound. The middle of the MCG, minutes after the Grand Final, and there was no sound. Eerie, but exhilarating. Half the capacity crowd was crying its heart out for Richmond, and the players heard nothing. It was their moment, the 20 winners, and they weren't sharing it with anyone. Just themselves.
They hugged, they whooped, they screamed. They lay on the turf, eyes closed, smiling. Kevin Bartlett, his mouthguard stuck into the stringed vest of his guernsey, was hoisted on willing shoulders, the familiar fists cutting the air in triumph. Still the crowd roared, but nothing could disturb the closed community of joy.
Even the coach was out of it. Relief more than joy covered Tony Jewell's craggy face. "It's the players' game," he said. "The players."
In the background was Collingwood, and misery. When will it ever end?
Now it was time for the crowd. VFL president, Dr Allen Aylett, took the premiership dais. "And now," he said, "the 1980 Premiers, RICHMOND."
"You ------- beauty," said Emmett Dunne. Now they were acknowledging the cheers, willing to share the glory. Waving, fisting, flailing their arms. The Collingwood men took the stage to receive their losers' medals. Bruce Monteath and Stan Magro, the West Australians, embrace, exchanging wry grins. Bill Picken shook hands. All they wanted to do was disappear.
Now it was Richmond's turn. Bartlett had been in four premierships before, but they never had these new-fangled medals. "What do we do?" he said. "Get in a line, I suppose?" Dunne was still shouting as he took the stage.
There was no doubt among the players who was to receive the cup, despite the fact Monteath had been afield for only 17 minutes.
The lap of honor. Francis Bourke, running as he did in '67. The cup flying from one to the other, and shared with the adoring crowd in the bleachers. The members were ignored, perhaps through oversight, perhaps through a link with the Tigers' working past.
Across the middle of the ground Rudi Webster, the club's psychologist, watched them exchanging the Cup, watched them running on air. "It's what we programmed them for," he said. "What we planned. A total annihilation."
The game was the ultimate anti-climax. Despite the pre-match preamble, the clash of the great rivals, the sellout, the $200 tickets, there was never any real tension in the match.
A shocking miss by Ian Low after four minutes was a sign of things to come for Collingwood. An even worse defensive error by Stan Magro a minute later allowed Dale Weightman in for a running goal, his bread and butter.
Then Richmond took over. Everywhere. Jim Jess was inspired at centre half-forward, Stephen Mount played centre half-back with a discipline drawn from 200 games, not his 18. Already Mark Lee was thrashing Peter Moore, and two Brownlow Medal enigmas, Geoff Raines and Mervyn Keane, were the perfect link-men. (Keane has played in three premiership teams. He has never won a medal vote. Raines was the best centreman in the game this year. He did not win a medal vote).
Up forward David Cloke was already using awesome bulk, strength and skill to great advantage, despite a month's absence from the game.
The second quarter was the same – a wipeout for Collingwood, a great victory for the Tigers. At half time, Richmond was 43 points up, but Tom Hafey was still hoping. At the break, Hafey told his men to keep trying at it. "We are seven down," was his message, "but if we can whittle it back to three or four, we are still a chance." Half way through the third quarter, he knew it was over. The kids in the members were making paper planes with their records. Not an "Age" liftout was to be seen.
Despite the 60-point lead at three-quarter time, the sense of urgency was still part of the Richmond group. "The ball, the ball, go at the ball," said Bourke.
The Magpies stood looking at each other. Only Magro was alive, urging them on. Hafey, and match committee stood apart, consulting. "We were trying to work out some moves," said Hafey later.
There was no hope for Collingwood, despite a few moves. But when Jess goaled sensationally after a minute, they were even less. All that was left was Bartlett's final glory, Monteath's appearance, a run for Daryl Freame, and seven more Richmond goals. Even Freame's late run was tossed around by Jewell. "When we put Daryl on," he said later. "I said to Alan Cooke (chairman of selectors), 'can Collingwood get up'?" Freame appeared at the 25 minute mark of the last quarter. Richmond led by 69 points.
Richmond's premiership was won at half-time in the match against Collingwood at Victoria Park on April 19. The Tigers came in nine points down, after a dismal first half. Jewell walked into the room, threw his jacket into a corner, and let fly.
Nobody moved. Nobody breathed. Jewell's mouth frothed with anger. His eyes were white. He spoke quickly, physically. He named players, questioned their motives, their courage, in front of their peers. He kept going until the warning siren sounded. The Tigers, mortified, dashed out and booted 12 goals to Collingwood's three in the next hour, winning by 52 points. It was the first of Richmond's 11 straight mid-season wins. A man who saw it all said on Saturday: "That half time address was the turning point for the Richmond Football Club for season 1980."
Kevin 'Hungry' Bartlett and that trademark goal celebration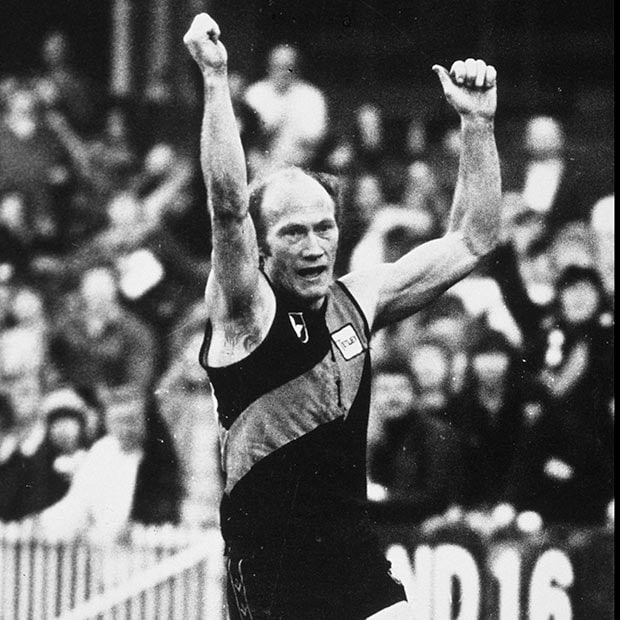 Jewell is the unknown coach, a man whose public image has been tainted by his poor presentation at World of Sport. Part of that comes from Richmond's Sunday morning training, usually held around a keg, part from Jewell's fear of public speaking. As he said on Saturday: "World of Sport is usually a wipe-out." But there is more to the man. Much more.
There is a power to him, a strength, a confidence, an ability to fire the best and worst of them. The confidence and emotion of winning this year has seen him physically toss out politicians, assistants, and the club president from the rooms.
But his screaming is rare, doubtless because he remembered how much he hated it as a player. Jewell gets away with it because he has a genuine feeling for his players. He would still love to be out there with them. On Saturday he said: "I'd rather be playing any day."
Jewell works closely with his match committee Cooke, Paddy Guinane, John Robertson, Eric Leech, and Richmond's great shadow, Graeme Richmond. "Believe this," said a match committeeman on Saturday, "Tony has an acute knowledge of football. He's always first with the moves, and he takes notice. There is a crude, basic earthiness about him, but it works."
The Richmond preparation was tuned by Jewell, using Webster, and Richmond (the man). Jewell and Richmond spoke in tandem at Richmond on Tuesday night, Webster on positive purpose, Jewell on Collingwood, and how much better the Richmond players were. It was rousing stuff. He finished with three words: "Oh ---- 'em!"
On Thursday night it was again the reinforcement of Richmond's strength, this time by Jewell. A player said: "We thought we could win by six goals if we could match them with desperation. After Thursday's meeting, I knew we could."
On Saturday, Richmond spoke as the players limbered up before the game. "It was a gem of a speech," said a listener. Richmond spoke of the Tigers' great history, the good times, the bad times. Jewell finished off, with the classic message of a Grand Final coach: "We have worked hard for this all year. We are a better team. We must win."
Match details
Richmond         6.5       11.11    15.17    23.21 (159)
Collingwood     2.6       4.10     5.18     9.24 (78)
Goals – Richmond: Bartlett 7, Cloke 6, Wiley 3, Roach 2, Keane 2, Weightman, Jess, Rowlings.
Best – Richmond: Bartlett, Raines, Lee, Keane, Cloke, Wiley, Wood, Weightman.

Goals – Collingwood: Picken 3, C. Davis 2, Wearmouth, R. Shaw, Moore, Ohlsen.
Best – Collingwood: Woolnough, R. Shaw, Picken, Ohlsen, Davis.