You probably don't know the story of Sapper Rowan Robinson, but you should.
While attention this week turns naturally and appropriately to the veterans of past conflicts – the original ANZACs of WWI, the diggers of WWII, the damaged and dead conscripts of Vietnam, and so many other theatres of war – the Anzac Eve game between Richmond and Melbourne has become a welcome platform to celebrate the many modern Australian soldiers also making a sacrifice for their country. Robinson made the ultimate sacrifice.
He was just 23 when he was killed, on Monday, June 6, 2011, by insurgent gunfire in Afghanistan. The surfer, athlete, musician, larrikin, son, brother and mate was serving as a combat engineer with the Special Operations Task Group in Helmand Province – a risky role, with an elite group, in a bloody battleground.
Speak to his family and friends and peers, it becomes clear that Rowan was an exceptional young man. And so at the invitation of the Richmond Football Club, his parents – Peter and Marie – will make the journey from their northern New South Wales home this week to be at the MCG as the darkened stadium falls silent and The Last Post is played.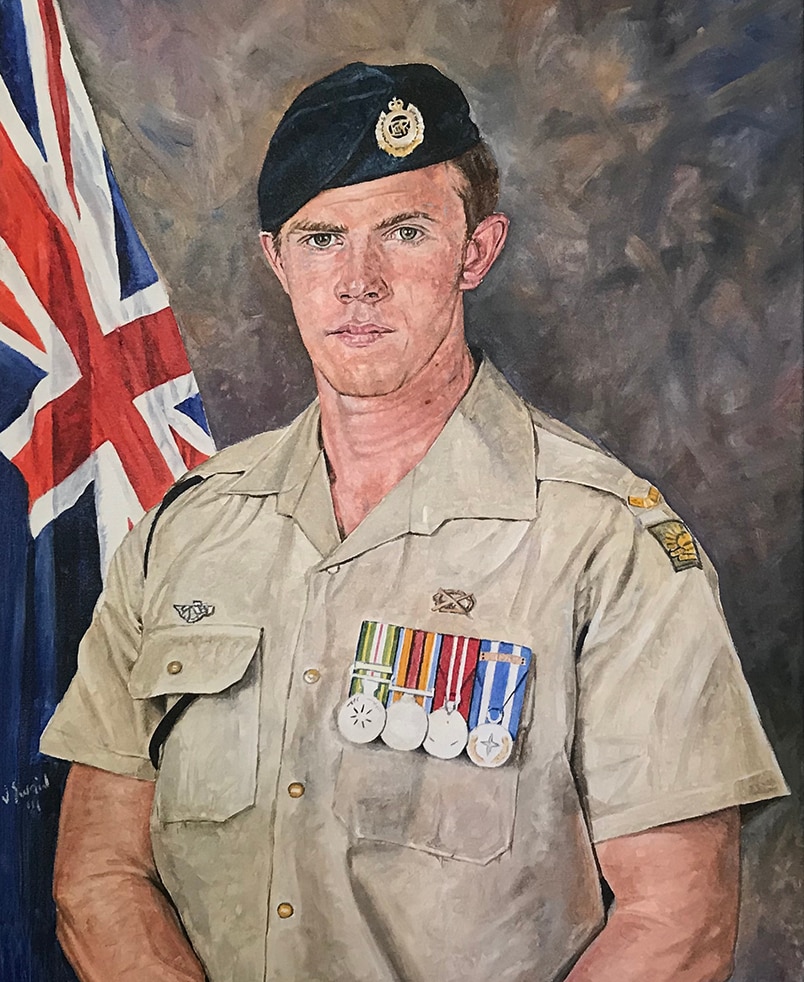 A portrait of Rowan Robinson in dress uniform
"It's important to acknowledge contemporary conflict, with so many Australians currently serving around the world," says Richmond CEO Brendon Gale. "To have the Robinson family involved on Anzac Eve is a poignant reminder of the dangers. We thank them sharing their story in memory of Rowan."
Peter and Marie have never been to such a gathering, but they will be front and centre of the occasion on Wednesday night, here to light the eternal flame, and to tell the tale of their beloved baby boy, the youngest of four children. More than a few people will be there to listen. This annual match has become one of the biggest events on the AFL's home and away calendar. A crowd of 77,061 came to the corresponding game last year, and 85,657 attended the season before. It's a big stage.
"I don't really know how I'll feel," says Marie, Rowan's mother, sitting at the dining table of her hilltop home in lush hinterland south of the Gold Coast. "Bittersweet, I suppose. Proud."
"Hopefully it means something," adds her husband, Peter, nodding. "Hopefully, by the end of the night, 80,000 new people will know who Rowan Robinson was. And what he did."
--
Rowan Jaie Robinson was born in Wahroonga, NSW, in 1987. At the time, his sister Rachael was 4, his brother Ben was 3, and brother Troy was 1. The clan had four kids in five years. "We got it over and done with," says Peter, grinning. He grins often and easily. "Found out what caused it, too. Black Sambuca."
After Rowan arrived the family moved north from the northern suburbs of Sydney to a small country acreage in the Tweed Heads region, in Cudgen. People all too often use the word "idyllic" to describe a happy childhood, but growing up on five acres of green land within reach of the beautiful northern beaches was a dream. Rowan grew up riding horses and tending goats. He played every sport imaginable – first soccer then cricket, surf life saving, basketball, rugby union and rugby league, and even one season of AFL while living in Townsville, between tours of Afghanistan, for the Hermit Park Tigers. "He was a big defender, I think, or a ruckman," says Peter. "The boys used to take the piss out of him because he couldn't kick, but no one argued with his fend."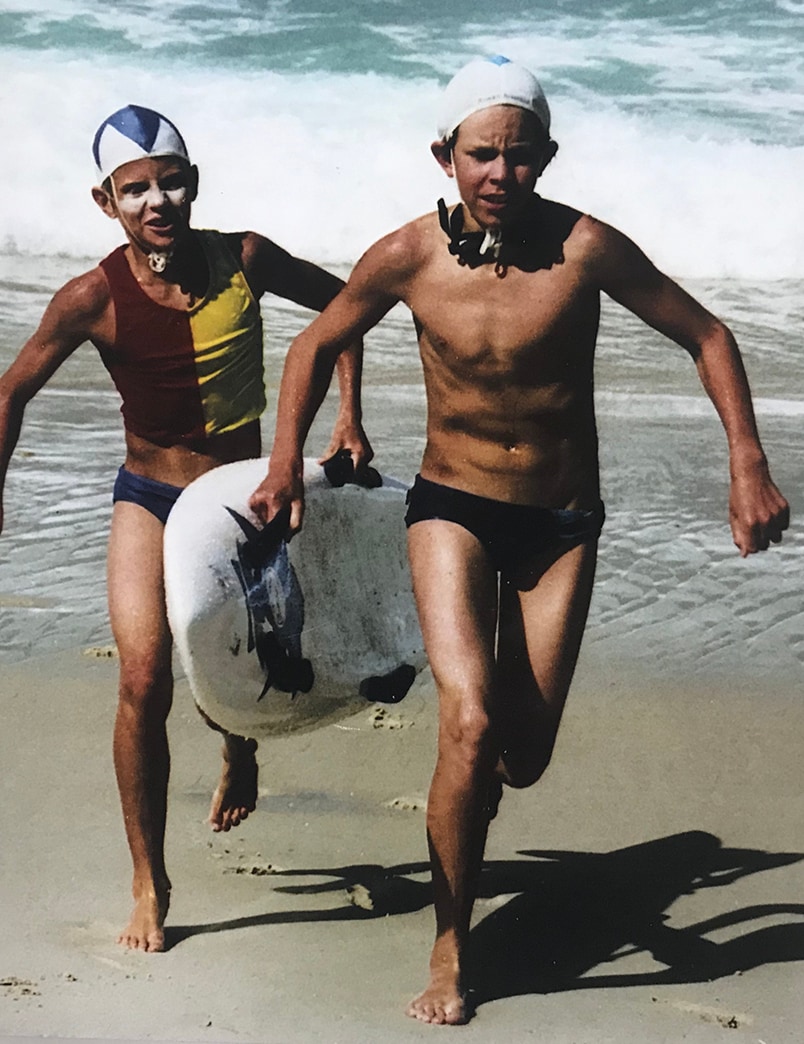 Rowan Robinson (right, with a friend) as a nipper surf life saver
He was, as they say, a big unit. Six foot four, broad, and muscular. He loved surfing, and indeed his ashes were spread on "his" surf break, scattered from a boat just off the beach at Kingscliff Surf Club. He was quiet as a child but quickly grew confident. He used to learn scripts off by heart, from TV shows and movies, says his mum. Marie once asked him why he went around mimicking a Jim Carrey voice or a Rodney Rude laugh. Rowan seemed surprised by the question. "I like to make people laugh," he replied. "And they love it."
He wasn't just a big gregarious figure either, but creative, too, teaching himself guitar, writing his own music and singing in a band on odd days off. His sister Rachael points out that there is a strict weight limit to what soldiers can bring with them abroad, and 'DJ Row Robo' made sure his turntables would fit within the allowance. How else could he bring down the house at a barracks barbecue in the Middle Eastern desert?
Luke Waide, 30, grew up with him, first splashing around in the sea as nippers, and ultimately going through high school as friends. They played rugby union together, winning the Yeates Shield (a country high school rugby championship). Rowan scored two tries in the final.
"He was everyone's mate, and everyone's son. He'd come over and my mum would cook him dinner and he'd say 'This is just fantastic Mrs Waide', but he wasn't just being polite. He would stop in and say g'day to your folks if he was in the area, even if you weren't home. He was just a great dude," says Waide. "His best strength was his charisma. He had this really intoxicating presence. I called him 'the smiling assassin' – or 'alpha army jerk'. He had the gift of the gab, and he was a good lookin' rooster, so we also called him 'Ken' – like Ken and Barbie."
Robinson was also someone who could be relied upon – for whom loyalty meant something real. Once, Robinson tagged along with Waide to a party in another town. They were 17 and 16 (respectively), and a group of guys wanted to fight Waide, over a girl. "They had the numbers stacked in their favour," says Waide. "I remember thinking 'I'm gonna get flogged here'. I really wanted to run. Row turned around and looked at them and just said 'Don't worry mate, I can take at least three of them'. And he did. We got out of there without any harm. Row would never leave you high and dry."
He graduated high school in 2005 and joined the Army in 2006, almost on a whim (after finding out how much better the wages were for soldiers than for apprentice tradies). He considered going to Duntroon but was rejected because they felt he needed more life skills and he was too young. He then heard there were Army vacancies in the role of 'combat engineer'.
What do they do, he asked?
"They build stuff," came the recruiter's reply, "and blow shit up."
That's me, he said. I'm in.
According to his father, Rowan was in many ways the last boy you might expect to join the military. He had the long hair, the surfboard, the scruffy chin and the mischievous grin. "Once he joined up though, he loved it," says Peter. "I don't know if it was the discipline or the mateship – parachuting out of planes – he just took to that world."
He excelled, too. Scott Corrigan works with a Brisbane-based company that manufactures explosive protective equipment, but back when Robinson enlisted, Corrigan was the commanding officer of his unit. They were based in Sydney – the Incident Response Regiment (later the Special Operations Engineer Regiment).
"In simple terms, my responsibility was to 'raise, train and sustain'," says Corrigan, now 47. He was basically top of the tree within a 300 man fiefdom, and Robinson was one of its youngest members – yet one of the most physically dominant.
During training, in which the recruits are put through high periods of intense physical stress – carrying ammunition boxes over, under and around muddy obstacles, for instance – Robinson powered through every arduous task. He ate up the work. Corrigan remembers one such exercise in which he and Robinson had to lay underneath a massive tractor tire, using it to do a kind of group bench press.
"Rowan made me feel very old and very insignificant very quickly," says Corrigan, laughing a moment before turning reflective. "No one speaks ill of the dead, but I've honestly never heard a bad word of the kid – he just didn't have a shortfall. He was one of the rock stars."
He needed to be. Combat engineers perform many roles in active service, including some of the most dangerous. Of the 41 Australian Defence Force casualties in Afghanistan since 2007, roughly a quarter were combat engineers. If a unit of Commandos need to move along a road, for instance, combat engineers like Robinson are the ones on foot, leading the way, scouring vulnerable places like creek bridges or culverts, scanning for explosive devices, walking into compounds searching for caches of weapons and drugs, and clearing the structures of deadly booby traps.
His first visit to Afghanistan in 2007 was a winter tour. He told his family he had never been so cold, flying through snowy mountains in helicopters with no doors.
"He actually should have been killed that tour," says Peter. "He was patrolling in one of the valleys and a bloke next to him stood on an IED that didn't go off. He was five metres away – had it gone off he would have died."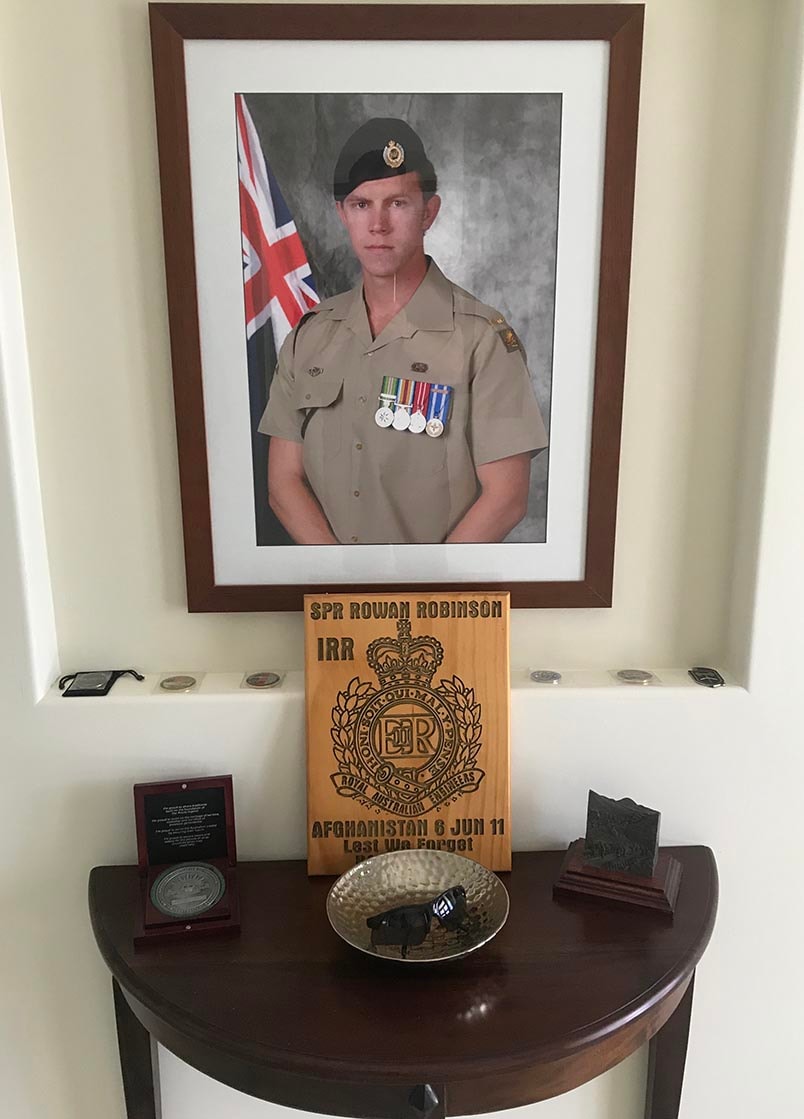 A small shrine inside the door of the Robinson family home in Terranora, including the sunglasses Robinson wore into battle on the day he died
Between missions though, Robinson immediately drew people in with that smile. Marc, a fellow combat engineer in Afghanistan, says he had an almost preternatural ability to lead – by turns gregarious but also mature. "Without even knowing it, or trying, he was the glue that held a lot of people together – this kind of social butterfly who could bridge the gap between everyone, engineers and commandos, grunts and leaders," says Marc. "He had that physical prowess – most of us completely dreaded when Rowan was going to run a physical training session – but it was also his ability to assimilate information. He never struggled to pick up a new concept."
He came home after his eight months abroad, and the bosses in Townsville asked if he would consider becoming an officer. "Rowan said 'With respect sir,' says Peter, beaming. "I am a real soldier."
And so he did, increasingly finding himself called on to work with the elite (Remove SAS ) Commando unit. Peter likes to tell the story of the time, back in Australia, when one group of Commandos wanted to make sure Rowan had the right stuff. They took him to a local hotel to play what's known as a game of "chins".
You sit on a barstool opposite another man, Peter explains, hands behind your back, and take turns taking a punch, then dishing one out. First one to fall off his stool loses. "Rowan got put up against this man mountain, who had the first shot, and Rowan rode the chair out like a true buckjumper," Peter says with pride. "On Rowan's first punch he knocked the Commando out cold. So he was in. They nicknamed him 'Sugar Ray'."
--
The second deployment was always going to be more dangerous. Rowan knew this.
He told his parents as much, just days before he flew out in 2010. "Mum," he said, "there's a big chance I won't come back from this one."
She sent him care packages all the same – big bags of all the lollies and lad mags he liked – and Rowan made sure he spoke to her before every mission. Increasingly, those missions were by air, as the roads became more and more dangerously laden with improvised explosive devices.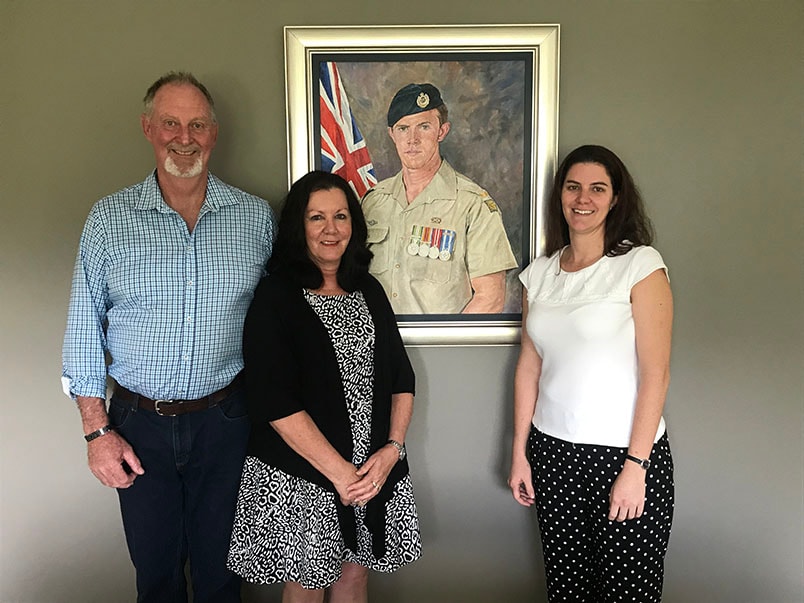 Peter (father), Marie (mother) and Rachael (sister) - not pictured are Robinson's two older brothers, Ben and Troy
"I think he liked the challenge – pitting his skills against theirs," says Peter. "He was patriotic too – he thought he was doing the right thing. That's why he went back – he said they hadn't finished their mission yet."
Luke Waide spoke to his friend 10 days before he died. Rowan called from Tarin Kowt, during a difficult time – a sergeant in the 2nd Commando Regiment had just been killed by an IED. "There was a change," says Waide. "I could detect a difference in the tone of voice. Without mentioning specifics, Row would say it had been really hard, and a lot more dangerous than he thought. He said we'd chat about it over a beer, and I told him 'Stay safe, keep your head down, not long to go now'. We never got the chance to have that beer."
--
Robinson went on two missions the day he was killed in action. In the first, he helped uncover one of the biggest caches of drugs and guns found during the entire war. In the second, he was part of an "overwatch" team, responsible for getting to high ground and providing cover for a clearance team below.
They were flown into the deadly Baghran district, and tasked with clearing an old Russian gunning placement on a hill. They took up their positions, and at 2pm their time under air support expired.
They began taking increasingly accurate small arms fire from concealed positions. Rowan was targeted. He decided he would move up the hill, and as he did – trading fire with the enemy as he went – a bullet flew through his left hand. It struck the stock of his rifle, ricocheted through his throat, and clipped his carotid artery. His end was just the beginning of a heavy battle.
"They couldn't get a helicopter in there to get him out for about two and a half hours," says Peter. "He was well outside the golden hour (that period after a traumatic injury in which emergency treatment is most likely to be successful). They tried to save him at Tarin Kowt, but I think it was all over by then."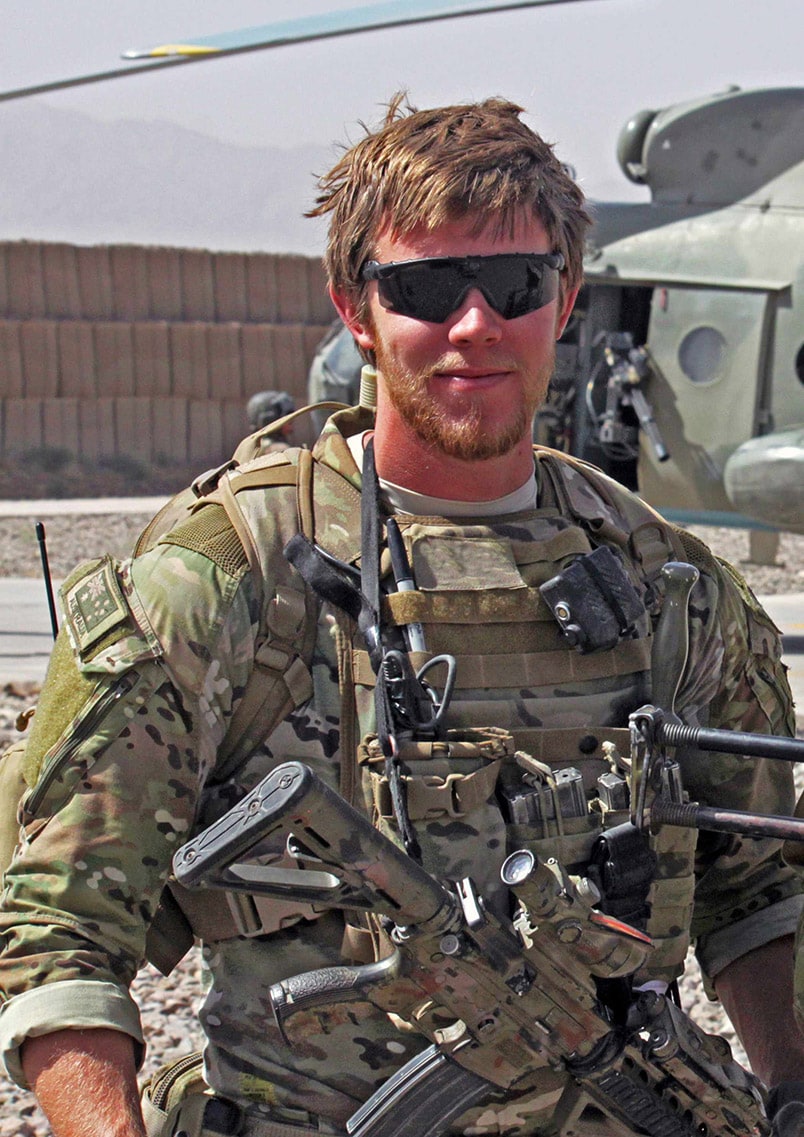 Sapper Rowan Jaie Robinson, 23, was killed on Monday June 6, 2011, in Helmand Province, Afghanistan, the day this photograph was taken
Marie and Peter had only just returned from a trip to the United States when they had to confront the reality of a life without their youngest child.
"You've gotta move on. You've gotta live. Rowan wouldn't want us to go into our shells," says Peter. "We wouldn't degrade his memory that way."
"You still weren't the person you used to be," adds his daughter, Rachael, sitting at the same table. "For six to 12 months you were changed."
"Even now, eight years later," Peter affirms, sipping his coffee. "It's a hole that'll never be filled."
Peter sees shades of Vietnam in this conflict, insofar as little has been won, plenty has been lost, and not much on the ground seems to have changed. The dead from Australia number 41, and the wounded 261. Ten billion dollars was spent, too.
"But Rowan believed it was a just cause," Peter says, gulping, swallowing his emotions. "He believed the one thing that would allow evil to prevail is for good men to do nothing."
--
We leave the Robinson home now, Peter and Rachael driving separately, and Marie and I speeding through the green hills on the way down to the beach by Kingscliff. In the passenger seat, she reflects on losing a son at that age, 23, after two decades of memories together, just as all that parenting work is seemingly done, as the boy you brought into the world becomes a fully formed man of the world, ready to lead his life, only to have it snatched away.
"Life is not kind," says Marie, softly. "But life must go on."
After his death, Rowan's brother Ben – then a member of the Armed Forces himself, in the infantry – flew to Afghanistan to bring the body home. More than a thousand people attended the funeral at the local Catholic church, including then prime minister Julia Gillard and opposition leader Tony Abbott.
Honours were bestowed. Medals given. The local beachfront reserve was renamed Rowan Robinson Park, a sandy beachside playground remade into a memorial. It sits next to the surf club where he was a nipper with Waide, and where there's now a big wooden surf boat, emblazoned with his photo.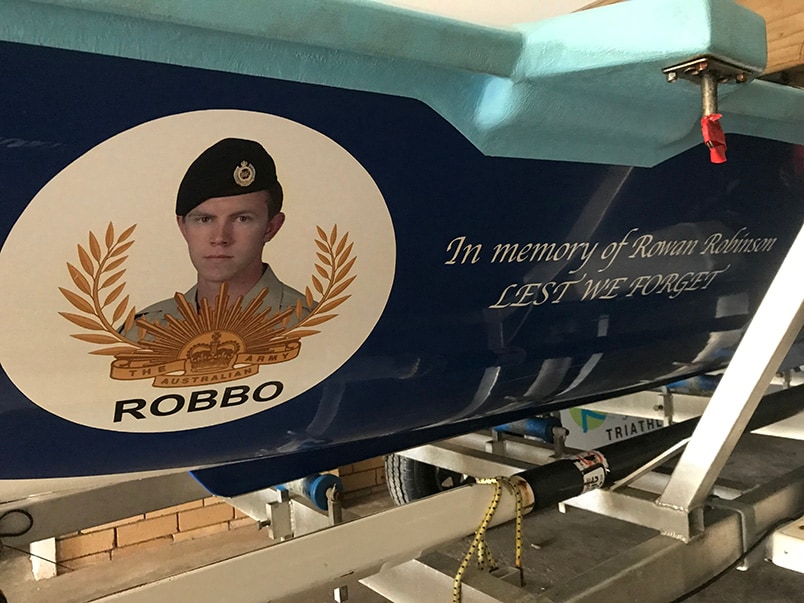 The surf life saving club at Kingscliff named a boat in honour of the late Robinson, who was a keen surfer and life saver, and all round athlete in the area
The family went to Afghanistan in 2014, to visit the military base where Rowan spent his time "over there". They saw the quarters in which the soldiers lived, and the gym that was renamed in his honour.
"It was good," says Peter. "You don't get a feeling for the place – where your son served – until you fly into Uruzgan in a C-17, and land at the airforce base, and see the mountains and poverty and desolation of the landscape, meet the boys and girls in uniform. You got to see it through a soldier's eyes."
They had a memorial service there, in front of a big granite wall erected for all the fallen soldiers. When Australian forces left the region, they blew it up, so it wouldn't be desecrated once abandoned. The Robinsons were given a small polished piece of that rock, to hold close.
Such things do help, says Peter, but nothing brings closure. "Closure doesn't exist. There's no such thing as closure," he says. "There's just shutting the door on a good bloke."
Community memorial services were always important to the family, but now they represent a solemn duty. The family are invited to a dawn service at the North Bondi RSL each year, where 12,000 people attend and Rowan's is remembered.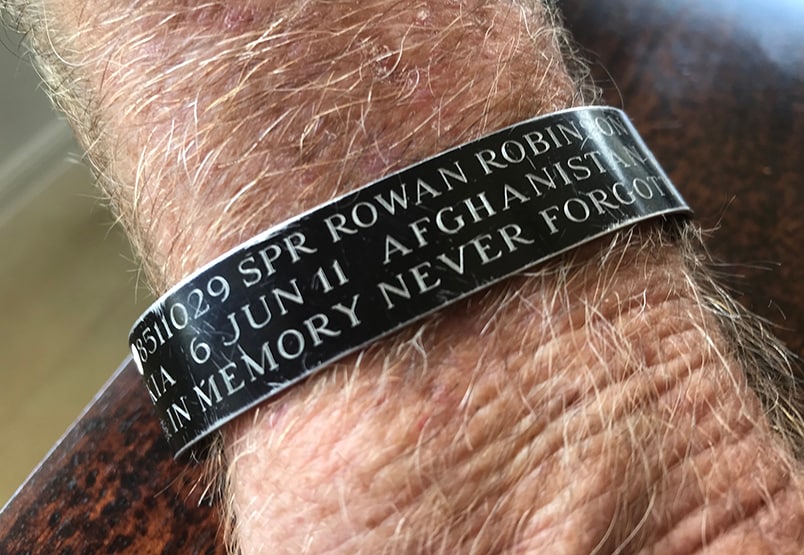 A steel memory band worn by father Peter Robinson
His friend, Luke Waide, says people are far too quick to forget what the young men and women serving abroad today have done for their country – the fears they've faced and braved on our behalf.
Anzac Day for him is about all those people – not just those who lost their lives more than a century ago. "I'm always proud to chat about Row – he did some amazing things in his 23 years. I'm a Collingwood supporter, but this ceremony, what Richmond are doing, really means a lot."
Such days and nights are – only naturally – both mentally, physically and emotionally exhausting for the family. "I guess you keep thinking, what would Rowan want us to do?" says Marie. "And that's what gets you through."
Peter says there's no other option. He remembers a time when Rowan was still alive and at home, and because of a late shift at work Peter thought he might give just the dawn service a miss, just this once.
He went to the local RSL that night, and Rowan's voice boomed across the room: "'Dad, did the diggers give it a miss? Did they just turn up at Gallipoli and say they were too tired?'"
Peter laughs and shakes his head at being called out by his boy – for even thinking about skipping a chance to honour the dead. "Rowan gave me grief for ages," he says, smiling ruefully, and chuckling. "I never lived that one down."
Round 6 pre-match ceremony; make sure you are in your seats by 6:45pm for the pre-match ceremony
- A performance by the Australian Defence Force band, "Better Be Home Soon", honouring our service men and women currently deployed overseas.

- The delivery of the Eternal flame from the Shrine of Remembrance by Shrine Guards. Once it arrives at the MCG, it is handed over to the Creswick Light Horse Troop, who will complete a lap of the MCG. The flame will be handed to Marie and Peter Robinson, the parents of Sapper Rowan Robinson, who was killed in in action in Afghanistan in 2011, at the age of 24.

- Following the lighting of the cauldron, the stadium will stand for the observation of the Last Post and the Australian and New Zealand national anthems. Both teams then run through a joint banner and the game prep begins.
ANZAC EVE Upgrade to a reserved seat or buy your tickets at ticketek.com.au