Andrew Krakouer is Richmond's Homecoming Hero for the 2019 'Dreamtime at the 'G' match.
The Tigers are set to pay tribute to Krakouer in the lead-up to Saturday night's blockbuster clash with Essendon.
Krakouer will walk to the Punt Road end of the ground, where he's sure to be warmly received by the Tiger Army.
He'll kick a ceremonial goal, then sign the football and present it to a Richmond fan in the crowd.
TICKETS Secure your seat for our traditional Dreamtime at the 'G clash against Essendon
Highlights of Krakouer's playing career with the Tigers also will be shown on the MCG's big screens.
Andrew Krakouer, an Indigenous, clever, small forward, was Richmond's fourth pick (No. 41 overall) in the 2000 AFL national draft.
The son of former North Melbourne star Jim Krakouer, he was recruited from WAFL club South Fremantle and made his senior debut with Richmond in Round 7 of the 2001 season against Essendon at the MCG.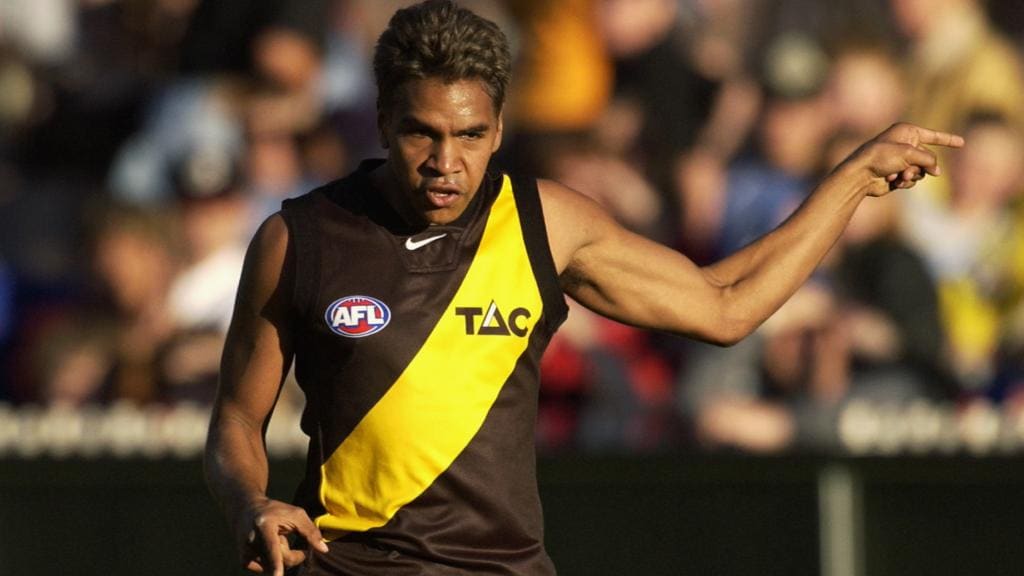 Although the then 18-year-old had only four disposals that day, he kicked two goals and showed flashes of brilliance.
Krakouer played a total of three AFL games that season and then 13 in 2002 (nine goals).
It was the following year that he established himself as a valuable, permanent member of the Tigers' senior side.
He finished second in the Club's leading goalkicker award for 2003 with 22 goals, was third in 2004 with 20 goals, fourth in 2005 with 23 goals and fourth again in 2006 with 19 goals.
His best goal return in a match during his time at Tigerland was five, which he scored twice – against Essendon, Round 7, 2003 and against Carlton, Round 7, 2005.
In the 2004 season, Krakouer underlined his excellent tackling ability, being ranked first at Richmond for tackles (95) and ninth competition-wide.
All-up, Krakouer played 102 games and kicked 102 goals in a seven-season career with the Tigers from 2001-07, before returning to WA, where he dominated for Swan Districts.
Krakouer subsequently had another stint in the AFL at Collingwood, and he was a member of the Magpies' 2011 Grand Final side, kicking three goals in their loss to Geelong.
GUERNSEY Learn more about Richmond's 2019 Dreamtime Guernsey designed by Daniel Rioli and his parents
Richmond great Matthew Richardson rates Krakouer as the best pack crumber he ever played with, ahead of clever forwards such as Chris Naish and Nick Daffy.
"When you were in a pack-marking situation and brought the ball to ground, you generally went to ground yourself. I just remember being on the ground at times and he'd already kicked a goal. It was just pure crumbing from hitting the ball at pace at the right time," Richardson said.
"It's not something many people are blessed with, to be able to read the ball off the pack like that.
"He'd take the ball and get rid of it quickly while other people were still lying on the ground."
Andrew Krakouer profile
Born: February 4, 1983
Height: 176cm
Playing weight: 76kg
Recruited by Richmond from: South Fremantle (WAFL)
Guernsey number at Richmond: No. 27
Debut at Richmond: Round 7, 2001 v Essendon, MCG
Games at Richmond: 102
Goals at Richmond: 102
Here is a list of Richmond's Homecoming Heroes since 2014...
| | | |
| --- | --- | --- |
| | | |
| 2014, Rd 2: Michael Green | 2014, Rd 4: Kevin Bartlett | 2014, Rd 6: Bryan Wood |
| 2014, Rd 13: Kevin Morris | 2014, Rd 14: Wayne Walsh | 2014, Rd 16: Barry Richardson |
| 2014, Rd 19: Rex Hunt | 2014, Rd 20: Francis Bourke | 2015, Rd 2: Bill Barrot |
| 2015, Rd 5: Andrew Kellaway | 2015, Rd 7: Mark Lee | 2015, Rd 9: Derek Peardon |
| 2015, R12: Dale Weightman | 2015, R15: Matthew Richardson | 2015, R17: Dick Clay |
| 2015, R20: Barry Rowlings | 2016, R6: Matthew Rogers | 2016, R7: Jake King |
| 2016, R8: Nick Daffy | 2016, R12: Nathan Foley | 2016, R14: Dan Jackson |
| 2016, R17: Scott Turner | 2016, R20: Jim Jess | 2016, R21: John Ronaldson |
| 2016, R22: Graeme Bond | 2017, R2: Roger Dean | 2017, R3: Richard Clay |
| 2017, R8: Mick Malthouse | 2017, R10: Michael Mitchell | 2017, R13: Shane Tuck |
| 2017, R14: Paul Broderick | 2017, R18: Stephen Mount | 2017, R20: Graham Burgin |
| 2017, R23: Trevor Poole | 2018, R3: Michael Roach | 2018, R4: Michael Gale |
| 2018, R7: Craig Lambert | 2018, R10: Stephen Rae | 2018, R16: Chris Naish |
| 2018, R19: Tony Jewell | 2018, R20: Gareth Andrews | 2018, R22: Mark Eustice |
| 2018, R23: Nathan Brown | 2019, R2: Geoff Raines | 2019, R9: Darren Gaspar |
| 2019, R10: Andrew Krakouer | | |