What's cooking with Dusty? His teammate and good friend Shaun Grigg reveals all in the latest edition of 'Talking Tigers', presented by Audio-Visual partner, Bang & Olufsen.
Grigg lifts the lid on Dusty, and provides an interesting insight into several other Richmond stars and talented Tiger cubs, in his new role as a regular contributor to the Club's powerhouse podcast.
Also, in this week's TT show, 'Richo' has the latest on 'The Chief' and the Tigerland museum's infamous missing overcoat, 'Greeners' lists his top 10 Tigers who went from zero to hero, and JB continues his mission to somehow lift the Club news section from mundane to mediocre.
Remember, if the Tigers turn you on make sure you turn on to Talking Tigers.
If, however, for some extremely good reason you couldn't listen live to TT today, click on the video player above to hear the show.
Want to get in touch with the TT team? Email talkingtigers@richmondfc.com.au or use #TalkingTigers on Twitter.
Timings:
Emails and tweets 10:30
Chief Watch 15:30
Club news 17:30
Richo's Rant 18:45
Tone's Tiger Top 10 20:00
Round 13 review 24:30
Yellow and Black Book specials 26:30
VFL report 29:40
Shaun Grigg interview 36:00
Spirit of '67 flashback 48:00
Greeners' gags 51:30
Listen to find out why Shaun Grigg said the following:

Grigg: "I was a cowboy from Brokeback Mountain"
Grigg: "Up there they're allowed the tops off, he's pretty happy about that"
Grigg: "I go around to Dusty's now pre-game, he cooks, you'd be surprised he's pretty good"
Having trouble accessing the latest Talking Tigers episodes on iTunes? Please follow these instructions to re-subscribe to our feed.
1. On your mobile device, access our AudioBoom channel by clicking here.
2. Click on the 'iTunes' option under 'Subscribe', as per the below.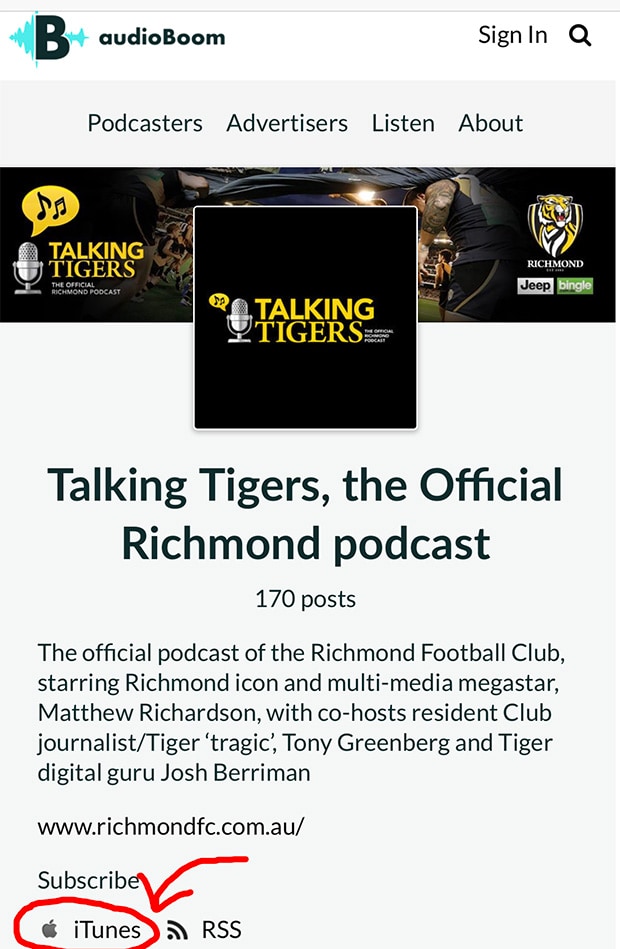 3. Then press 'Subscribe' as per the below and you will be taken across to our feed.